Chicken Shawarma with Garlic Tahini Sauce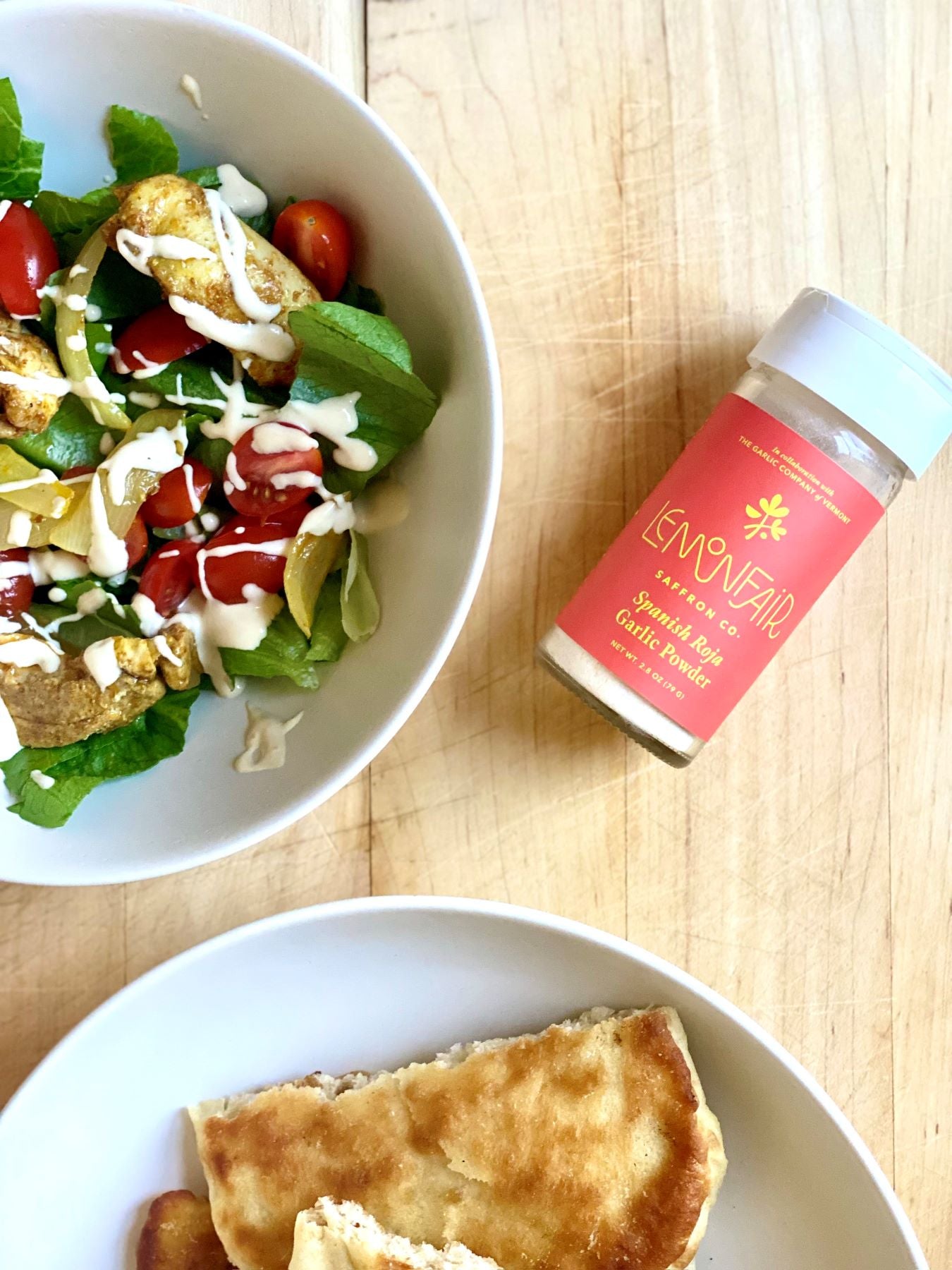 This Chicken Shawarma with Garlic Tahini Sauce recipe is a surefire way to elevate your weeknight dinner game. With its succulent and tender chicken, packed with bold and savory flavors. And the best part? It's incredibly easy to make, requiring just a handful of ingredients.
The key to this recipe's depth of flavor lies in the Spanish Roja garlic powder, which infuses the garlic tahini sauce with a rich and aromatic taste, adding a creamy and tangy finish to the dish. This is a meal that's both satisfying and impressive. 
1 pound boneless skinless chicken thighs, sliced into thin pieces
Shawarma seasoning 
Olive Oil
1 yellow onion
Salt and pepper
Romaine lettuce, shredded 
Grape tomatoes, halved
1/4 cup tahini
Juice from 2 lemons
1/2 tsp Spanish Roja Garlic Powder
Cold water 
Season the sliced chicken thighs with shawarma spices, olive oil, salt and pepper.
Chop the yellow onions, then mix into chicken to marinate for an hour, allowing the flavors to infuse.
Preheat oven to 400°F. Then, spread the chicken mixture evenly in a glass pan. Bake in the oven until juicy and tender, with an internal temperature of 165°F.
Meanwhile, make the creamy garlic tahini sauce. Mix tahini, Spanish Roja garlic powder, lemon juice, and salt together. Ado cold water gradually, 1 tablespoon at a time, to achieve the desired consistency. After about 3-4 tablespoons you should have a light, creamy mixture.
Once ready, the cooked chicken and onions are mixed with shredded romaine lettuce and halved grape tomatoes, and drizzled with the garlic tahini sauce before being tossed together in a large serving bowl.
Serve with warm pitas and enjoy!