Saffron Popovers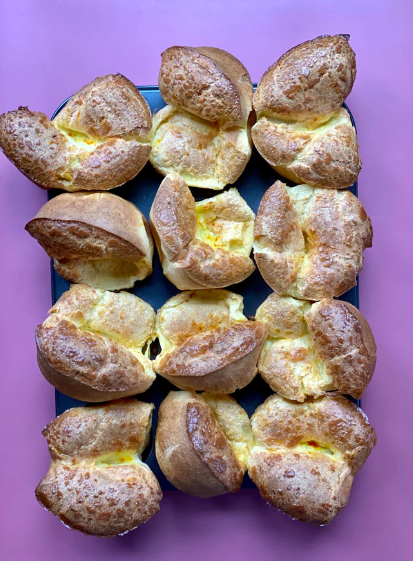 Unsalted butter for greasing
6 large eggs
2 c. milk
1 pinch saffron
2 c. sifted flour
1 tsp. salt
6 tbsp. melted butter


Preheat oven to 375. Generously grease muffin tin or popover pan with butter.
Grind saffron in mortar & pestle. Add to melted butter while warm and let sit for 5 minutes.
Meanwhile, beat eggs lightly. Then, add milk and melted butter & saffron mixture. Stir to combine. 
Gradually stir in flour & salt. Beat utnil smooth, careful not to overbeat. If not smooth, strain the mixture.
Pour mixture into tin, filling cups almost to the top. Bake for 50 minutes. Do not open the door during baking.
Remove popovers from the oven. Cut several slits in the top of each & return to oven for 5-10 minutes. Immediately remove popovers from tin.